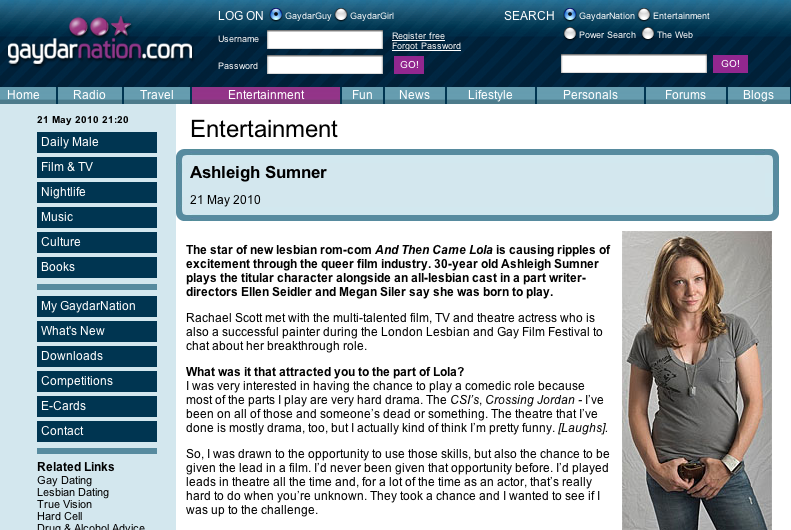 The star of new lesbian rom-com And Then Came Lola is causing ripples of excitement through the queer film industry. 30-year old Ashleigh Sumner plays the titular character alongside an all-lesbian cast in a part writer-directors Ellen Seidler and Megan Siler say she was born to play.
Rachael Scott met with the multi-talented film, TV and theatre actress who is also a successful painter during the London Lesbian and Gay Film Festival to chat about her breakthrough role.
What was it that attracted you to the part of Lola?
I was very interested in having the chance to play a comedic role because most of the parts I play are very hard drama. The CSI's, Crossing Jordan – I've been on all of those and someone's dead or something. The theatre that I've done is mostly drama, too, but I actually kind of think I'm pretty funny. [Laughs].
So, I was drawn to the opportunity to use those skills, but also the chance to be given the lead in a film. I'd never been given that opportunity before. I'd played leads in theatre all the time and, for a lot of the time as an actor, that's really hard to do when you're unknown. They took a chance and I wanted to see if I was up to the challenge.
Can you tell me where your character is in her life when the film starts?
I think my character is where a lot of people are in their late-20s and early-30s. I think that there's a shift that starts to happen about that time of life for many people. Some people it's earlier and some people it's later, but I think you start to examine what a relationship is. What kind of stable relationship you would like, if you are ready for one.
I think part of that is when you become a real partner, when you are ready for that challenge. It's showing up and what that is. Personally speaking, there are some growing pains involved in that and I think that's where my character is. She's figuring it out and I think when you meet the person who's right for you, you realize that you want your best to be even better.